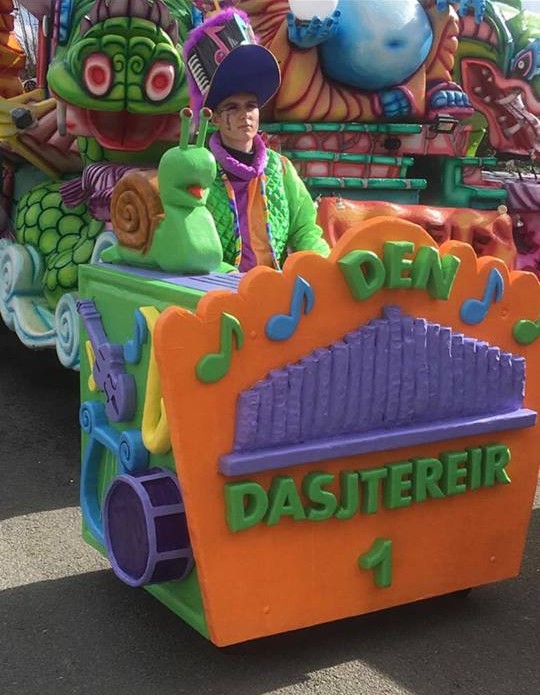 In onze Halse carnavalsstoet zie je officiële carnavalgroepen, vriendenkringen, vrije groepen, prinselijke ordes, maar ook heel wat individuelen die een bepaald thema uitbeelden of uitwerken. Sinds 2018 zien we ook Den Dasjtereir meelopen in onze stoet. Het gaat om Jordan Denayer, een enthousiaste kerel van 19 jaar, gebeten door de carnavalsmicrobe : "Ik heb nooit in een groep gezeten, maar ging elk jaar naar de stoet kijken. En vorig jaar dacht ik: waarom doe ik zelf niet eens mee? Ik maak mijn kleine char in een schuur van manège Hof ter Molleken in Kester. Thema wordt : "we veire dui de stroete van Alle". Ik heb heel wat tips gekregen van carnavalsgroep de Gebeure om te leren werken met piepschuim. En mijn stoedliedje werd ingezongen door Kjell Muylle."
HKV De Dasjtereirs was in de jaren 70 en 80 een legendarische Halse carnavalgroep. Dasjteren betekent prutsen, morsen of aanmodderen. Maar als je ziet hoe vlot deze 'dasjtereir' uit piepschuim figuren snijdt, dan is deze geuzenaam net als de meeste carnavalsbenamingen met een vette knipoog. Jordan heeft trouwens geen link met de Dasjtereirs van vroeger, de naam is toevallig gekozen. Het is een Halse benaming die tof klinkt.
We wensen den Dasjtereir ne skuune carnaval toe. Het is fascinerend om telkens weer te ervaren hoeveel jonge Hallenaren het carnavalsvirus in hun lijf hebben en zich willen engageren in de stoet. Chapeau!
Luister naar het volledige interview in Carnavalitis via www.radiovictoria.be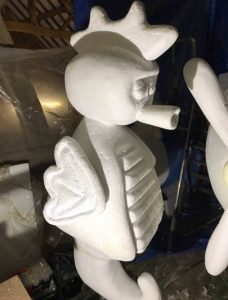 https://www.gruutemet.be/wp-content/uploads/2019/02/dasjtereir2018.jpg
695
540
Sonny Vanderheyden
http://www.gruutemet.be/wp-content/uploads/2017/01/logo-gruutemet.png
Sonny Vanderheyden
2019-02-19 09:26:35
2019-02-19 10:24:52
Doe es den Dasjtereir!