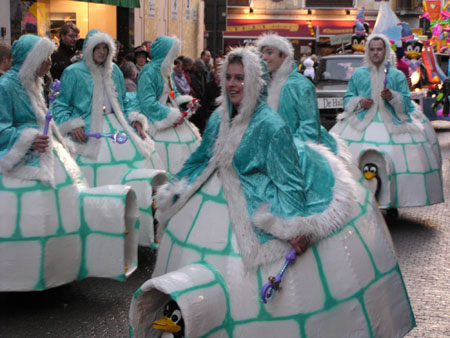 We kennen hem van z'n wekelijkse weerpraatjes bij Victoria (105.2 FM).  Op zaterdag rond 10u15 en op zondag rond 10u50.  Maar ook voor gruutemet.be houdt weerman Benny de weersverwachting in het oog!
"We staan aan de vooravond van een wisselvallig en vrij koud carnavalsweekend. Maar zoals het er nu naar uitziet, zal het met de hoeveelheid neerslag nog best kunnen meevallen.
Na een donderdag met maartse buien en opklaringen hebben we vrijdag te maken met een actieve storing die niet alleen voor regen maar in de ochtend ook voor (smeltende) sneeuw kan zorgen. Tegen de avond wordt het vanuit het westen droger en begint het voorzichtig op te klaren. Er waait een matige westelijke wind en we halen maximaal 5 graden. In de nacht van vrijdag op zaterdag daalt de temperatuur naar waarden rond of iets onder nul.
Zaterdag lijkt best mee te vallen met een mix van zon, wolken en een paar buien maar de droge perioden zullen overheersen. We halen 6 graden wat toch enkele graden te fris is voor begin maart. De eerste carnavalsnacht zou droog verlopen met temperaturen rond het vriespunt. Een extra trui is dus geen overbodige luxe.
Zondag is er weinig zon en bovendien kan ik geen garantie geven op droog weer. Hou dus rekening met af en toe wat regen of een bui. Meer dan 6 graden halen we niet maar gelukkig doet de wind het vrij kalm aan. Maandag is de zon terug meer van de partij maar de kans op enkele (lokale) buien is nog steeds groot. De laatste carnavalsnacht wellicht geen neerslag maar wel tegen dinsdagochtend kans op nevel en mist bij lichte vriestemperaturen.
Foto : HKV De Hallemettekes als iglo's in 2006
http://www.gruutemet.be/wp-content/uploads/2016/03/hallemet2006.jpg
338
450
Sonny Vanderheyden
http://www.gruutemet.be/wp-content/uploads/2017/01/logo-gruutemet.png
Sonny Vanderheyden
2016-03-02 14:24:24
2016-03-02 14:24:24
Het carnavalsweerbericht van Benny!