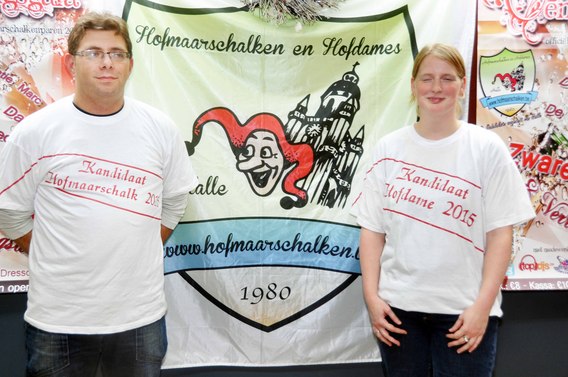 "De oedelijkste sosjetèit van Halle" stelt z'n nieuwe hofmaarschalk en hofdame voor tijdens een groots Oenstellingsgala in de zaal van Campus Don Bosco in Halle. Op zaterdag 7 februari vanaf 20u10. Dan worden de opvolgers van Ine Swalus en Joris Dekeyser officieel ingehaald. Hofmaarschalk 2015 wordt Timmy Somers, hofdame 2015 Natasja Vandewalle. Het wordt een showavond met optredens van Halse carnavalsartiesten, maar ook van De Zware Jongens uit Nederland en travestie-act Miss Liza. Kaarten zijn vanaf nu te koop in café De Met (8 euro) of 10 euro de avond zelf. Zin in Hofwijn of Hofpralines voor Valentijn? Bestel ze via www.hofmaarschalken.be
Bij de Orde van de Hofmaarschalken en Hofdames staat het nieuwe carnavalsseizoen in het teken van 10 jaar Werner I, hofmaarschalk in 2005 en sinds kort ook voorzitter van de Orde.
Foto : Felix Merckx
http://www.gruutemet.be/wp-content/uploads/2015/01/hofm15.jpg
377
568
Sonny Vanderheyden
http://www.gruutemet.be/wp-content/uploads/2017/01/logo-gruutemet.png
Sonny Vanderheyden
2015-01-05 15:23:42
2015-01-16 09:28:50
Oedelijkste sosjetèit invitèit aale...