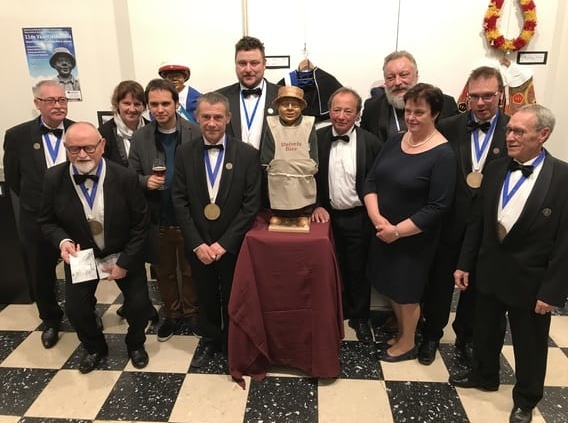 Elk jaar reikt de Halse persclub een prijs uit aan de man of vrouw van het jaar. Dit jaar ging de strijd tussen 3 Halse verenigingen die op een opvallende manier het nieuws hebben gehaald.
Grote waardering is er voor het Dweilteam dat met kermis t'Halle het open Belgisch kampioenschap voor dweilorkesten organiseert. Een evenement dat elk jaarsuccesvoller wordt en intussen al 2 dweilfanfares liet ontstaan in Halle.
Minstens even straf was de prestatie van het team dat erin geslaagd is om de Sint-Veroonmars van Lembeek op de officiële Vlaamse lijst van immaterieel erfgoed te krijgen.
De punten lagen dicht bij elkaar, maar het is de Confrerie van de Vaantjesboer die door de Halse Persclub werd verkozen tot 'vereniging van het jaar'. Voorzitter Luk Pieters en zijn ploeg zorgen ervoor dat de Halse reuzen in de belangstelling blijven. Ze creëerden een nieuwe reus, restaureren of soigneren de oude reuzen en zorgen ook voor originele stunts zoals de trouw van 2 reuzen in de basiliek van Halle. Het voorbije jaar organiseerde de Confrerie ook een gesmaakte tentoonstelling van de vele kostuums die het standbeeld van de Vaantjesboer al heeft mogen dragen.
http://www.gruutemet.be/wp-content/uploads/2020/01/confrerie-groepsfoto.jpg
426
568
Sonny Vanderheyden
http://www.gruutemet.be/wp-content/uploads/2017/01/logo-gruutemet.png
Sonny Vanderheyden
2020-01-22 21:00:14
2020-01-22 16:43:09
Confrerie verkozen tot 'vereniging van het jaar'