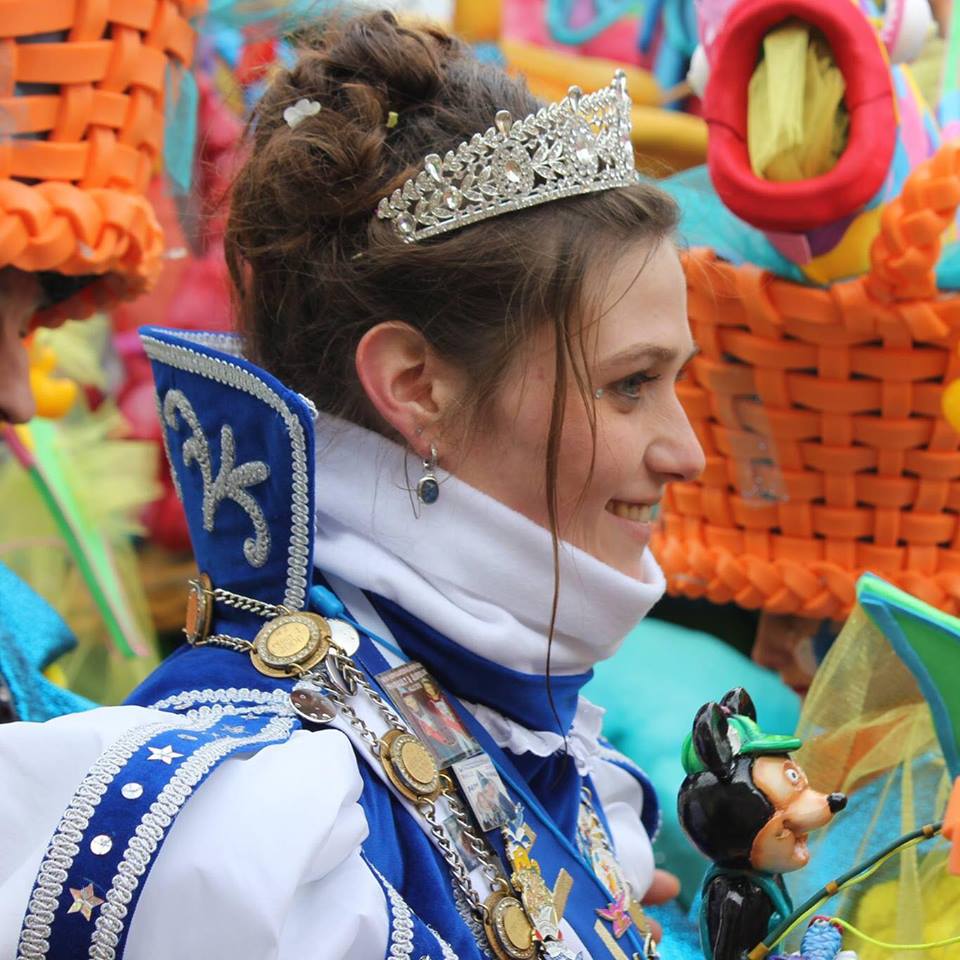 Net zoals de 'schachten' in studentenverenigingen worden gedoopt, moet ook de prinses van het afgelopen carnavaljaar verschillende proeven afleggen alvorens ze mag lid worden van de 'Orde van de Prinsessen'. Meestal verwijzen enkele proeven naar het karakter of de interesses van de prinses in kwestie. Op den elfde van den elfde wordt Hare Zotheid Steffi I om 8u11 in café 't Maeske verwacht :
"Ge wetj verwacht op de Nijvelsestienweg in cafe 't Maeske oem 8.11u in gruut ornoet, mè oen ave nek ne collier mè 11 gekoukte are verseet me ne foto of eet specifeek van de leste 11 prinsessen. Op a kop blave Mickey urekes me lichtekes en oen a voote ne witte en ne blave blok.
A verveur es ne disney pjeirekoesj me disney muzeek, a pjeire moote schuun opgemokt zen.
Ave advocoet es verklied in ne ruuje telefon me secretaresse, ave 1ste getuige es een boerin me een koei da kan gemolken weire en a 2de getuige es ne karnavaleske soldoet. Voe da ge doe ni allien zotj stoen, emme we nog 11 persunen vandoon, het volgende wetj er verwacht:
Ne paashaas (dane brengt posaare mee van Milka voe de prinseskes, gien kindersurprisekes)
Een paasklok
Een cantinierke van posse
Een dansmarieke
Een babbelut
Nen boer
Ne visser
Ne kok
Ne Mini mousse
E pjeit
Zelf moeje oek het ien en het ander meibringe en vuibereide:
Ge moetj 2 standjes kunnen moake, iene me kramiek en ballekes en den 2de me 11 soute jenever
22 gekoukte are me de pelle nog oen
Pak spaghetti en ne bokal me saus
A klarinet: ge moetj de reveille kunne speile (2 kie 8 tellen), oek moeje oen a gevolg een gemakkelijk danske lieren op dane reveille, voe dane reveille echt te moake oek een pistoul meibringen
Gelek as alle joeren mokt de prinses een ontbijt voe alle prinseskes, deis joer es da ni anders, het es ni voe niks da ge zu vreug in 't Maeske moetj zen. De Prinseskes willen geire eitjes, spek, bruud en kaffeikoeken. Om 11u33 wordt heel het gezelschap in Sportcafé De Bres verwacht."
En wa mè prinsj Ambi I en Tastendeuvel?  Die info volgt!!
http://www.gruutemet.be/wp-content/uploads/2016/10/steffi-prinses-2016.jpg
960
960
Sonny Vanderheyden
http://www.gruutemet.be/wp-content/uploads/2017/01/logo-gruutemet.png
Sonny Vanderheyden
2016-10-27 19:10:05
2016-10-27 19:10:05
Steffi I wordt gedoopt!