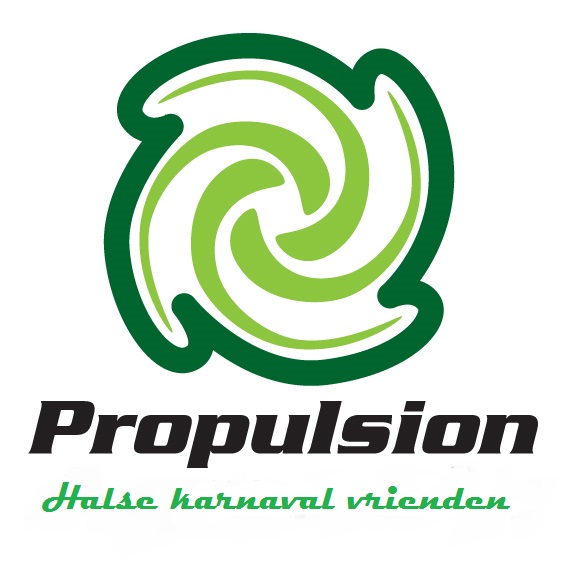 Carnaval Halle is een bruisend volksfeest. Je hebt officiële carnavalsgroepen,losse groepen,charbouwers,vriendenkringen,prinselijke ordes en tal van individuelen die meelopen in de stoet.  Zo is er sinds 2003 ook een groep vrienden die al jaren samen carnaval vieren. Olivier Tordeur vertelt : "Carnaval zit al van jongsaf aan in mijn bloed.  Als "kleine" gast" indertijd op Sint Rochus, OP van de zenuwen staan wachten in weer en wind, en elk jaar te kunnen genieten van de stoet… Tja, dat zijn prachtige momenten."
Wat begon met 3  (Yves Buelinckx,Filip Brisaert en Olivier Tordeur) is intussen uitgegroeid tot.. Propulsion : Halse Karnaval Vrienden. 15 man sterk! Vaak kiezen ze voor een nostalgisch thema dat verwijst naar legendarische horecazaken,dancings of winkels uit de streek. Niet te verwonderen als je in je ledenbestand figuren hebt zoals Andy De Brouwer van Les Eleveurs, Ward Sluys van WS Lettering of Lange Peter van -waar is de tijd- den Diamonds en de Maxx (legendarische dancings in Halle).   Propulsion is een parodie op Traction : "De vader van Andy heeft ook een vaste vriendenkring waar leeftijd en passie de blijvende kracht is, en ja… Dat is ons grote voorbeeld om ook nog vele jaren te kunnen genieten van het Halse carnaval'.
Thema dit jaar wordt.. Blaave gaas geive! Propulsion is te zien in het Halse carnaval met hun custom chopper-motoren als leden van motardclub "De Bikkis. Beezewaa Sjappter".  We zèn kerjuis!  Mét eigen liedje, geschreven door Andy De Brouwer.
http://www.gruutemet.be/wp-content/uploads/2015/03/propulsion.jpg
567
567
Sonny Vanderheyden
http://www.gruutemet.be/wp-content/uploads/2017/01/logo-gruutemet.png
Sonny Vanderheyden
2015-03-02 09:21:02
2015-03-02 09:21:02
Motaarclub De Bikkis : Beezewaa Sjappter 2015!