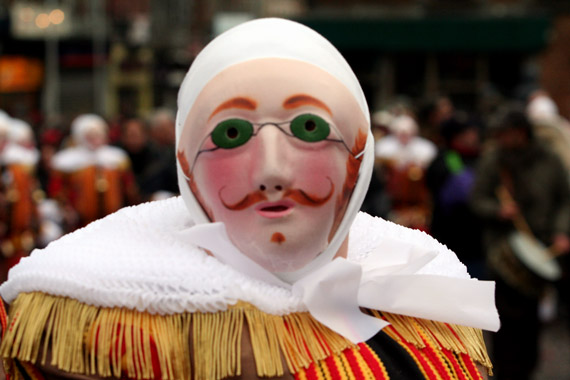 In enkele steden en gemeenten in België en Nederland zijn door het verhoogd terreuralarm bepaalde vermommingen verboden met carnaval. In Breda krijgen de carnavalsvierders de raad mee om "geen thema's te kiezen die kwetsend kunnen overkomen, bv. tegenover bepaalde geloofsgroepen".  In gemeenten als Malmédy of Oldenzaal is het verboden om zich te verkleden als Mohammed : "niet provoceren" is de teneur.  In Bastogne en Nijvel gaan ze nog verder en mogen de carnavalisten zelfs geen maskers dragen.
De kans is klein dat grote carnavalssteden als Aalst en Binche dit voorbeeld zullen volgen. Vrijheid van meningsuiting en relativerende humor zijn basisingrediënten van het carnavalsfeest. "Je suis Charly" weet je nog wel? Wie een maskerverbod goedkeurt, geeft toe aan wat terroristen zo graag willen : dat we ons gedrag veranderen en onze vrijheden opgeven.
In Halle is het politiereglement duidelijk. Artikel 4.1.1 Het is verboden zich gemaskerd, vermomd of verkleed te bevinden op de openbare weg of in de plaatsen toegankelijk voor het publiek, uitgezonderd tijdens de periodes waarin dit om historische, folkloristische of religieuze redenen wordt aanvaard. Kortom, met carnaval mag uiteraard wel. Dus de Gilles mogen hun masker opzetten.  Laten we hopen dat dat zo blijft en dat het gezond verstand regeert!
http://www.gruutemet.be/wp-content/uploads/2015/01/gille-masker.jpg
380
570
Sonny Vanderheyden
http://www.gruutemet.be/wp-content/uploads/2017/01/logo-gruutemet.png
Sonny Vanderheyden
2015-01-30 14:27:57
2015-01-30 14:27:58
Maskers verboden?