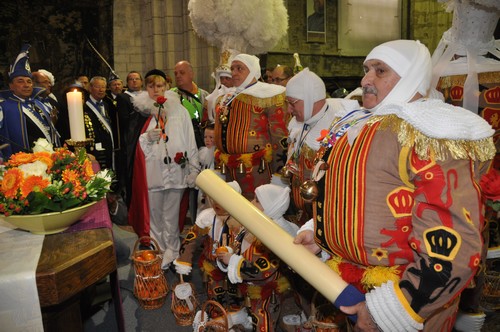 Nu de restauratiewerken van de Halse Sint-Martinusbasiliek voorbij zijn, kunnen de Gilles van Groot-Halle opnieuw in groot ornaat een kaars offeren aan Onze-Lieve-Vrouw van Halle. Een hartverwarmende traditie, waarbij de carnavalisten het even stil maken in hun hart en bidden voor 3 dagen en nachten dolle pret, zonder tegenslag of incidenten. En natuurlijk.. mooi weer! Je hoeft geen pilaarbijter of fervente katholiek te zijn, om een emotionele band te hebben met de basiliek. Het blijft bangelijk wanneer de Gilles -kleurrijk uitgedost- op zondagmorgen van carnaval dit monumentale gebouw betreden. Het geluid van hun klompen,belletjes,trommels en trompetten weergalmt tussen de gewelven. Pas dan is het écht Halfvasten. De hoogdag van carnaval!  Een traditie die een paar jaar geleden nog het tv-journaal haalde.
Maak het mee.. Zondag 6 maart om 9u44 in de basiliek. 2 uur later -om 11u44- offeren de Gilles van Sint-Rochus een kaars in de Sint-Rochuskerk.
http://www.gruutemet.be/wp-content/uploads/2016/02/kaars-gilles2011.jpg
332
500
Sonny Vanderheyden
http://www.gruutemet.be/wp-content/uploads/2017/01/logo-gruutemet.png
Sonny Vanderheyden
2016-02-26 16:03:40
2016-02-26 16:03:40
Emo-moment van carnaval krijgt unieke decor terug!