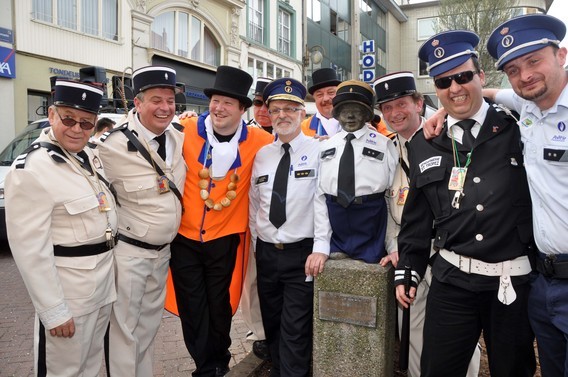 De politie van Halle zet opnieuw heel wat manschappen in om ervoor te zorgen dat het Halse carnaval zo veilig mogelijk verloopt. Het Rode Kruis bemant een grote EHBO-post naast de basiliek, maar zet ook mobiele teams in.  De brandweer controleert de wagens in de carnavalsstoet op brandveiligheid en zet ook interventieteams in tijdens de stoeten en bij het vuurwerk en de verbranding van carnaval op het Oudstrijdersplein. Wil je de politie bereiken met carnaval? Bel dan 101.  Voor brandweer en Rode Kruis bel je 112.
Bezit,verkoop of het gebruik van sterke drank (ook fruitjenever!) in het openbaar is strafbaar tijdens de carnavalsdagen.  Ook nachtwinkels mogen geen sterke drank verkopen.  Winkels en supermarkten mogen geen reclame maken voor alcohol. Aan jongeren onder de 16 mogen geen alcoholische dranken verkocht worden met een percentage hoger dan 0,5.  Aan jongeren onder de 18 mogen ook geen alcoholpops verkocht worden. Overtreders riskeren al snel een boete van 250 euro.  De politie zal ook streng optreden tegen druggebruik.
Belangrijk voor de bezoekers van de carnavalsstoet : gebruik,bezit en verkoop van spuitbussen is verboden! Net als voetzoekers of vuurwerk.Bezoek je carnaval met kinderen: doe ze dan een verdwaalbandje om met het gsm-nummer van de ouders. Hou je kinderen bij de hand, als je naar de stoet kijkt.
De stad voorziet tal van mobiele toiletwagens om wildplassen tegen te gaan.
Carnaval is voorbij op dinsdagmorgen om 6 uur. Dan moeten alle cafés onherroepelijk dicht.
http://www.gruutemet.be/wp-content/uploads/2015/03/politie.jpg
377
568
Sonny Vanderheyden
http://www.gruutemet.be/wp-content/uploads/2017/01/logo-gruutemet.png
Sonny Vanderheyden
2015-03-09 17:16:18
2015-03-09 17:16:18
Carnaval 2015 : de politie informeert!